Brief History
Guido Giliberto has been involved with smash repairs in the Ingham area since 1969.  He managed the panel repair department of the local Holden dealership (Origlasso Motors) for almost twenty years.  In 1992 Guido, together with his wife Maria opened Guido's Panel & Paint.  It began as a two-man workshop in a small old shed.  Over the years their business grew from strength to strength and in 2000 saw the opening of the new purpose built workshop you see today at it's current location on McIlwraith Street, Ingham.
In 2004 their son, David joined the family business.  He is an accredited panel and paint technician with a particular interest in motorsports, modifications and restorations.
Today, Guido's Panel & Paint management and staff continue to offer assistance with towing services and insurance claims as well as providing the highest standard of accident repairs, panel beating, spray painting, scratch and dent repairs, interior and exterior detailing, rust repairs, rustproofing, vehicle restorations and custom painting.
We're proud to support the secondary School Work Experience programs and be involved in the local community by providing donations, sponsorship and voluntary help to local schools, clubs and non-profit organisations including:-
Australian Italian Festival
Bent Rods Car Club
Blue Care
End of Season Harvester Party
Everglow Community Care Links Inc
Gilroy Santa Maria College & Our Lady of Lourdes Primary School
Herbert River Crushers Rugby League Club
Ingham Community Kindergarten & Preschool Quiz Night
Ingham Rotaract Club
Ingham State High School & Primary School
Lions Hinchinbrook Family Fishing Classic
Maraka Festival
Rotary Club of Hinchinbrook
Sugar City Rodeo & Horse Sports
Ingham Motorplex
Variety Club Queensland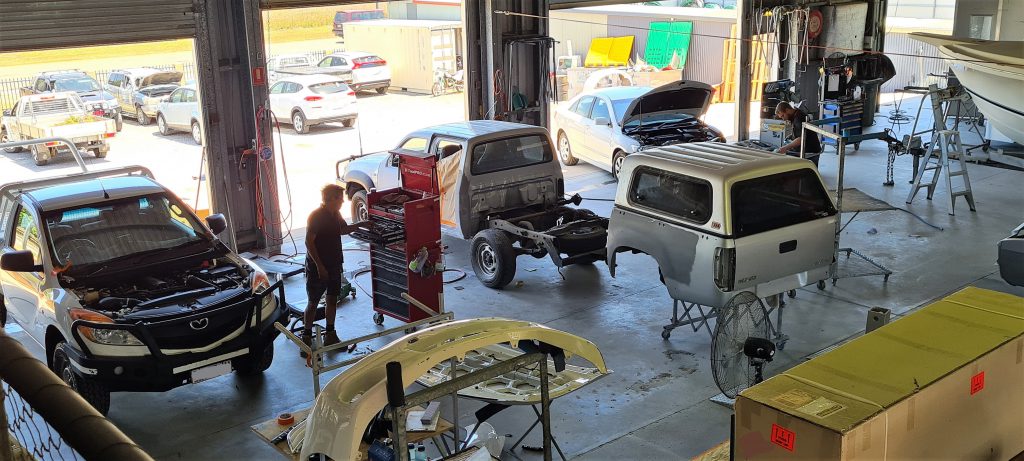 Our Vision
Guido's Panel & Paint is committed to offer our customers honest repair advice and options and the assurance that their vehicles are repaired properly and professionally at a competitive cost.
We value long lasting relationships with our customers, community and suppliers.  Equally important is for our customers to be satisfied with the entire process of service and repair so feedback and suggestions are always welcome – any concerns will be addressed.
Management and staff at Guido's Panel & Paint represent a wide spectrum of age, skills and experience.  They have proven to be long term and very stable.  They work individually or cooperatively as required and always show respect for each other and their workplace.  This represents the personality of our business.
Through our commitment we continue to build a reliable, successful business which will enhance employment opportunities in our local community for future trainees, apprentices and tradespeople in the vehicle repair industry.
Our vision remains committed to establish Guido's Panel & Paint as the preferred accident repair service center for individuals, families, business owners, car enthusiasts, insurance companies and corporations in far North Queensland.
To find out more about our business, or to book your vehicle in for repairs, talk to one of our friendly staff today!